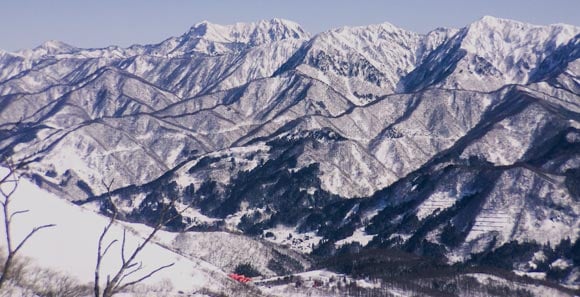 Hakuba Valley
Skiing and snowboarding in the Hakuba Valley is like nothing else in the world. On a pow day you feel like you're making tracks on an ancient sumi-brush scroll, with nothing between you and nature except 2 feet of blower. evoTrip does not guarantee powder, but we schedule our trips at a time when it happens more often than not.

On storm days, the tree skiing at Hakuba Cortina is prime - everything there is sub-alpine so it stays safe even when the snow stability is sketchy higher on the mountain. For adventurous experts there is a run that drops off the backside towards Tsugaike-Kogen resort – if you follow that down it spits you out at a flood control gate (you can't miss it, it's made of giant red pipes) from there you can tour back around to the front of Cortina. Cortina is great for this kind of skiing because even though the Japanese may not do it, they don't care if you do, and won't hassle you ever.

The best safe/mellow touring terrain is hands down at Tsugaike-Kogen or Norikura. The only hazard is that this touring is found on ridge-tops, and leaving the flat/mellow ridge gets you gullied out really fast and getting out can be a chore.

For expert riders, there's a huge ridge that opens from the top of the Happo-One lift, put your skins on at the top of the chair and go for a walk. Be careful in bowls - while they don't look threatening, the Hakuba area gets a ton of snow and unwary riders have been caught in slides on leeward slopes. Take an avy class or refresher before you come, as the state of avy prediction and forecasting here is minimal – you'll be pretty much on your own for both assessment and rescue.