August 22, 2009
Loss in the Family
It's hard to figure out where to start when thinking about the last year. It began with what was the biggest personal and professional challenge that I've faced and that evo has ever faced as a company - the loss of a dear friend and colleague, Christine Koller. Christine is as responsible for where we are today as anyone. Since she started in 2005, she has also been one of my closest, most trusted friends with a giving, committed spirit that was unique only to her. Moreover, Christine had the vision for evo - blending culture, community and the urban, action sports lifestyle.
In April, 2008 Christine was diagnosed HIV positive and passed away 3 months later. As softgoods buyer and head of our buying team, she was loved and respected by everyone that she worked with. She had an incredible balance of empathy and passion for people and at the same time earned respect because of her firmness, resolve and raw talent. Christine embodied evo. She deeply cared about our customers, the lifestyle that evo represents and was committed to the roots while severely ambitious and keenly aware of the opportunity that existed in front of us.
In a time when many of our friends, family and a multitude of others are in need, Christine's life serves as an example with her giving, optimistic, communal spirit. Christine lived our core values, The Great 8 and more than ever, after such a challenging year, we as a company know that those core values will always be the foundation that will get us through these times.
Identifying our commitment to build a family at evo, Dynastar Sales Rep, Sean Vill expressed, "I hope you're doing well, and I would again like to compliment you on the unbelievable support you and the staff at evo have given Michael and Christine and their families. I am truly humbled. We all knew evo was something different and unique and from our very first meeting I knew I wanted to be involved. What I never expected was that the community of evo was so strong and selfless. evo means so much more than a PO# or deal or an idea etc. Again, I am humbled by your generosity." –July 19, 2008
Optimism
Christine beamed with optimism and we have many reasons to do the same as we look to the future. We believe that we are on to something very exciting and our focus on truly engaging and building community around evo will never waiver. People often ask, "What is evo all about?" I point to our culture blog because I know that the spectrum of posts speak to the core of our brand. You'll find articles about new, often hard to find snowboard, skateboard, ski, wake and streetwear products right next to pieces about art shows, movie premiers and music events that went off in our space. Our events personify the focus that we have on community. From the b-boy battle "evo fest II" to Manik's "Look Back" skateboard gallery to the Obey, Shepard Fairey SOS benefit and Sanctuary Arts gallery opening with art from local, homeless youth, evo is always collaborating with a wide range of people behind the movements and causes that we stand for.
In reflecting on this past year, I'd like to send my deepest gratitude to our friends and industry partners, all of the evo employees and our customers who are the reason that we exist. We couldn't get through the tough times nor enjoy the best of times without you and for that, I thank you.
Cheers,


Bryce Phillips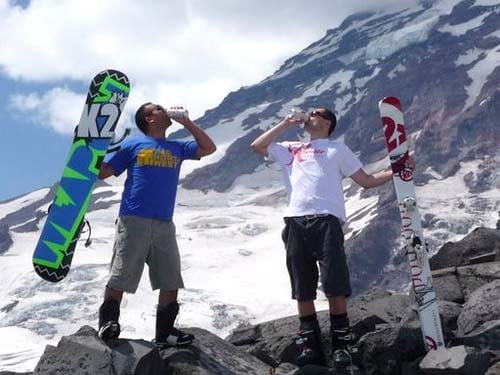 evo customers Kuba Poraj and "KJ" with Rainiers on Rainier, July 12, 2009