How to Kickturn on Skis
Steeper terrain is usually climbed in a series of gradual switchbacks at an angle that allows for better traction. This approach is more efficient and faster in the long run than skinning straight up a steep slope. When you're traversing and run out of room, you'll need to perform an about-face, known as a kickturn. To kick turn on skis, follow the steps below.
Set yourself up for success. Plan where you're going to turn a few steps in advance.
Flatten out and overshoot. Altering your path to a slightly flatter angle can help you get solid traction. Move forward until your boots are even with your new path, beginners often don't scoot up far enough.
Get a solid footing with your downhill ski. Make sure you have a good grip, you'll be relying on your downhill ski to hold your weight.
Flip your uphill ski around into the new path. Slide your uphill ski farther forward than you would for a normal stride, then flip it around to the new direction of travel (we told you this requires some flexibility).
Transfer your weight to the uphill ski. Now that you're standing with your feet facing in different directions, transfer the majority of your weight to the higher ski (the one you just flipped around) and make sure the skin is gripping (sliding the ski back a fraction of an inch helps "set" the skin). Now comes the tricky part.
Bring the downhill ski around. Transfer all your weight to the uphill ski and straighten your lower leg while bringing it alongside the upper one. It can help to tap your heel sharply on the heelpiece of the downhill ski and let the tip of the ski pivot upward toward your knee before bringing this ski into line with the other and take another stride in the same motion.
It helps to watch experienced skiers do this a few times in slow motion if you can get them to demonstrate. Different skiers have different techniques for this crux move and you may find one or the other better suited to you. Check out this demonstration below to get a clearer idea of the steps.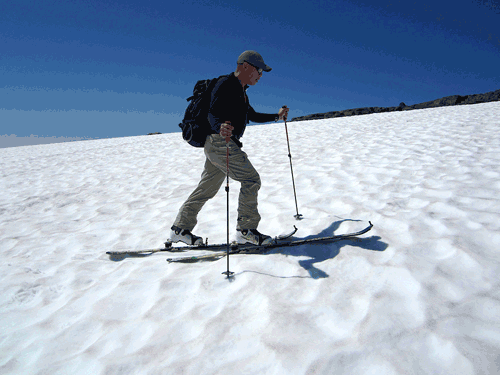 On steeper slopes, the uphill kick turn is the most efficient way to change direction. This technique requires balance, flexibility, and sometimes a bit of nerve. Beginning ski tourers often develop a fear of this maneuver, but with a bit of practice (and a fair amount of floundering) you'll be a pro in no time. It's best to practice on lower angle slopes at first and work up to steeps, but the reality of alpine touring is that at some point you'll just get stuck with skis facing two different directions on the steepest section of a climb, wondering how you got there and what to do next. But don't sweat it, just remember the basics and work your way through. Next time will be smoother.
On steeper terrain, or in deeper snow, you sometimes don't have enough room to slide the initiating ski forward to flip it around. When this is the case, you can use this technique instead.
Once you've gotten your downhill ski set, slide the uphill ski backward and pivot it around your lower boot in a curve until it faces in the new direction. Your skis should now be forming an "X" with one directly over the other.
Slide the pivoting ski forward until the tail clears the lower ski. Plant it, and transfer your full weight to it.
Bring the next ski into line with the same tap of the heel to raise the tip, and you're on your way. Watch the demonstration below to get a better idea of how this variation on the kick turn works.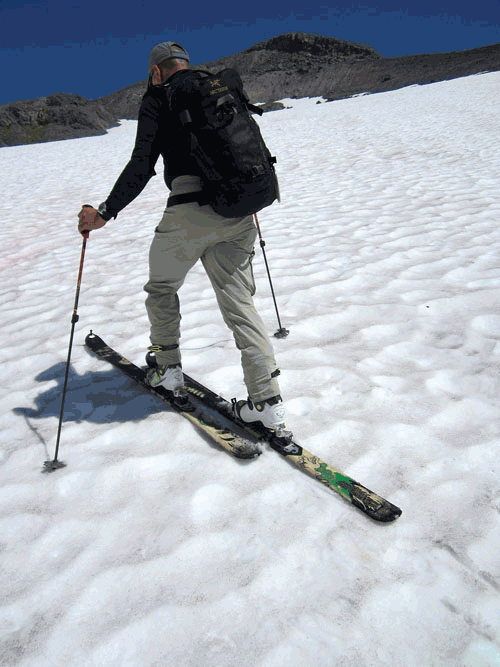 It takes a bit of experience before you'll recognize when to use the first technique and when to use the second. Both require some practice to master, especially when the snow is deep or the grip is sketchy. Don't give up, the people ahead of you who look like they're doing this effortlessly didn't learn it in one day either!