Custom Ski & Snowboard Boot Footbeds
People with a very high or very low arch, or one that is very long or short, as well as those with pronation problems (rolling into the medial side of the boot shell and often putting pressure on the navicular bone) may have better results with a custom footbed. Customs also come in many styles, but must be heat formed by a shop with the proper equipment to take an impression of your foot. The advantage of a custom footbed is that it matches the shape of your foot exactly and offers the ultimate in control.
Most footbed manufacturers offer a basic custom model, usually with heat moldable supportive layers laminated through the heel and arch areas. These footbeds are heated, placed in impressions made by your feet to shape the footbed, and then trimmed to fit in your liners. Prices typically run in the $75-100 range.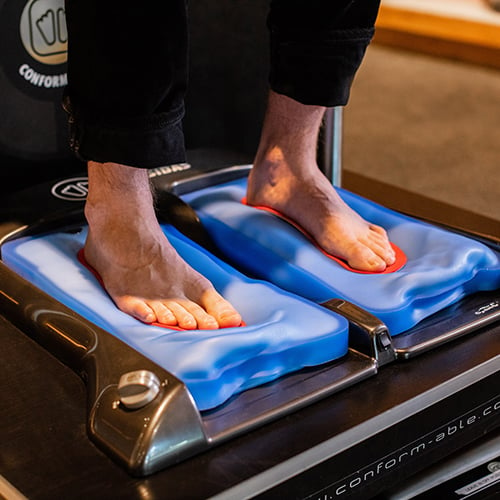 Fully custom footbeds involve a custom moldable base that's first formed to the user's foot, then further supported by adding layers of foam or cork underneath and then sanded or ground to match the contours of your bootboard and boot shell. This is what bootfitters refer to as a "posted" footbed, and it typically costs between $150 and $250. Though not cheap, this is often the best solution for people with very high arches or serious stability issues. Custom posting materials vary in hardness, so you may have a choice of how much cushion to build in. Very firm posted footbeds are favored by racers and skiers who want the most precise and quickest response, soft posted footbeds are often preferred by people with very rigid feet or those wanting a bit of cushion between their feet and the bootboard, and medium density posted footbeds are for most of the rest.
Footbed manufacturers and bootfitters have different theories when it comes to the "best" way to mold custom footbeds. The methods range from unsupported, subtalar neutral vacuum molding (Superfeet) to semi-weighted molding (Conform'able and Instaprint) to fully weighted molding. There is no single "right" way to make custom footbeds, and each method has its proponents - many bootfitters use more than one method. The skill of the bootfitter and their ability to analyze your particular stance and biomechanical needs are often as important as the method used.
Keep in mind that there will likely be a break-in period for any new footbed. If you haven't been using footbeds in your ski or snowboard boots, you may find the pressure under your arch uncomfortable at first. It takes time for your foot to acclimate to the new support. Try alternating your new footbeds with the original stock footbeds for a while and gradually increasing the time spent on the new ones until you get used to them.